Urban Bush Women Summer Leadership Institute
Malesha Taylor, Scholarship Recipient
This summer we are using physical and verbal dialogue, creative and choreographic tools, panels, readings, and embodied research to investigate the effects of Black women(+)'s* leadership on the United States. We will center the leadership of Black Women (+) to learn and study organizing & artistic strategies from the lives of individuals and collectives such as Harriet Tubman, the Combahee River Collective, Marsha P. Johnson, and the Stonewall Raid resisters, Maxine Waters, Barbara Jordan, Shirley Chisholm and Stacey Abrams, as well as the Black women(+) leaders in our own neighborhoods and families. We will examine and take inspiration from the artistic legacies of Ntozake Shange, Octavia Butler, Toni Morrison and Urban Bush Women as ways to see our possibilities as artist/ organizers who challenge the status quo.
Arts for a Changing America: LA
Malesha Taylor, Guest Speaker and Performer
ArtChangeUS REMAP: LA Cultural Equity Summit will gather cultural leaders, artists, grantmakers, and community members to advance cultural equity strategies and innovative practices at the Japanese American Cultural and Community Center's Aratani Theatre on Wednesday, April 17, 2019 in Little Tokyo, Los Angeles.
The United States is being remapped by its people. By 2042, the population of US communities of color will eclipse the historic white majority. While the population has shifted on the ground, institutional leadership and funding across the arts and all sectors have not kept pace. Leading the nation, Los Angeles and New York City have implemented major studies of diversity, equity, and inclusion in their cultural communities. The Summit asks: What role do we each play in moving towards a shared future?
Join a public sector discussion led by heads of city arts agencies moving research into action from Los Angeles, New York, Oakland, San Francisco, and Seattle.
Arts Connect International: Boston
A three-day summit and arts-integrated experience examining issues of equity both in, and through, the arts.
March 22nd-24th, 2019
Boston, MA
A concert and discussion on music that inspires social change featuring author Naomi Andre. Panel Discussion led by Moderator, Malesha Taylor.
Presented by The Atlanta Opera, The Baton Foundation and Challenge the Stats
Naomi Andre, author of Black Opera: History, Power, Engagement and a performance of "Songs from Prison" by Jamaican American composer Joel Thompson and more.
Premiered at Dizzys Jazz on August 5, 2017 and is returning to San Diego Downtown City Library on Sunday, April 14, 2019. This vocal recital features African-American art song set to the poetry of Langston Hughes and Paul Lawrence Dunbar in a 45 minute performance with Pianist/Composer/Professor, Richard Thompson of San Diego State University. For booking information, contact us at malesha@musesalon.org.
Brioxy Leadership Summit Los Angeles 2017
Malesha was selected to convene with 100 of the country's top social innovators of color in their 20's and 30's driving solutions to build opportunity for young people of color. The Summit took place at the California Endowment. It was an unforgettable weekend! See www.brioxy.com for more information.
The Fannie Lou Hamer 100th Birthday Celebration
Project New Village hosted the annual Fannie Lou Hamer Celebration at the Jacobs Center, October 6, 2017. Artists included: Natasha Ridley, Musa Kaleem and Vibrational Tones, Alyce Smith-Cooper among others.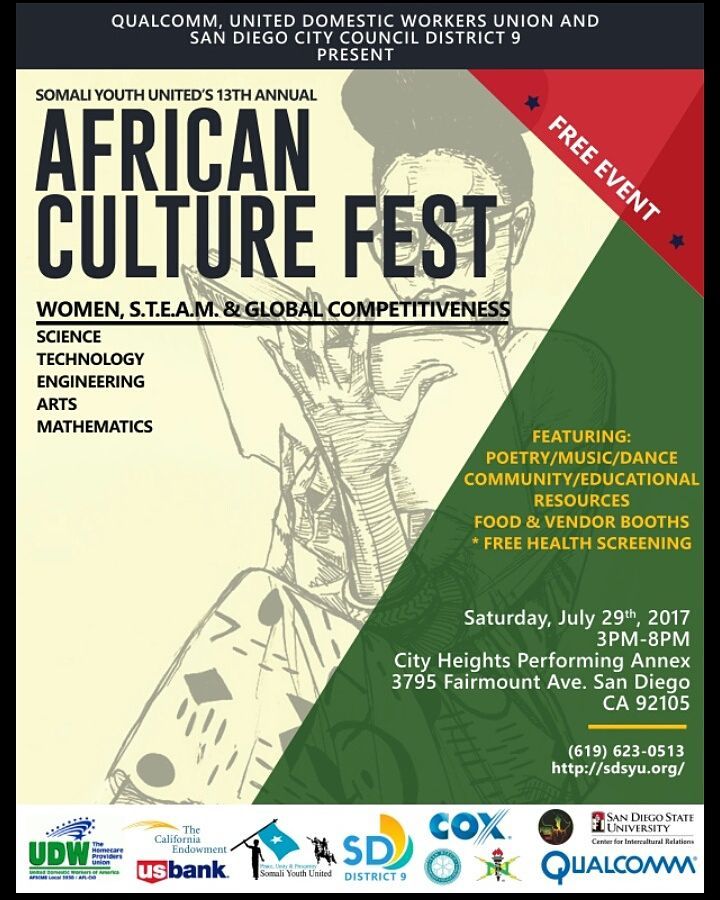 The 13th Annual African Culture Festival
Malesha produced and managed the festival musical selections and booked artists for this year's annual festival. The theme was Women, STEAM and Global Competitiveness! A beautiful family, friendly event!